News
Search Committee Chairperson
As the finishing touches are made to the Parish Profile, we prepare for the passing of the baton to our Rector Search Committee. This committee is an official sub-committee of the vestry with a mandate to search and bring forward a candidate for vestry approval. Once the committee is assembled, the parish seals their mandate in the prayers of a commissioning in worship.
According to the bylaws of St. Paul's, the committee is to be chaired by a member of the vestry and be composed of at least nine members, three of whom shall be members of the vestry. It is with immense gratitude that I announce that Louise Thompson will lead the work of this committee as its chairperson. Please join me in thanking Louise for her long-standing commitment to St. Paul's and to the discernment process ahead. Stay tuned for the announcement of our rector search committee members and plans for their commissioning.
Meet Louise Thompson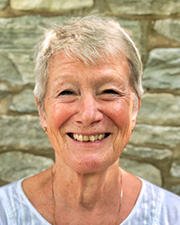 Louise has been a devoted member of St. Paul's for over 30 years; she has sung in the Choir for most of her time here and was co-director of the Christmas Pageant for the past three years, in addition to volunteering on the Rummage Sale, a breakfast team, and the gardens around the church. Her children were both confirmed at St. Paul's, and her husband Bill volunteered, especially at Evensong receptions, for much of their time here.
In her professional life, Louise served in the Peace Corps for four years in several African countries. She earned her law degree at Temple University, then was an enforcement attorney at the Pennsylvania Department of Environmental Protection for 30 years, the last 19 as Regional Counsel for the Southeast Region. Louise enjoys spending many happy hours with her three grandchildren.
Update on the Search Process
The Parish Profile is on track for publication this month. The text of the document has benefitted from the scrutiny of many critical eyes to ensure that it tells the full story of who we are as a faith community. Once approved by the Bishop, the Profile will be made available to prospective clergy candidates, posted on our Website, and handed off to the search committee to support their discernment process. Look for an announcement of the members of the Rector Search Committee within the next several weeks.