Shop & Drop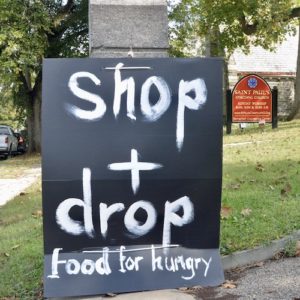 Food insecurity is a continuous reality for many families in neighborhoods adjacent to Chestnut Hill.  Several local organizations gather food items that are donated by individuals, and organize food pantries from which distributions are made to those in need.  We invite everyone to add a few items to their grocery baskets each week, and bring them to St. Paul's, from where they will be taken to one of the distribution points.
Canned and packaged goods that have a good shelf life are requested; most needed are items providing protein such as tuna, chicken, peanut butter.  Please avoid glass containers.  The drop off point at St. Paul's will be well marked, and may be outside Dixon House or in the vestibule of the church.
Invite your friends to participate!