Shop & Drop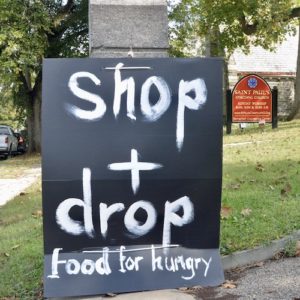 Food insecurity is a continuous reality for many families in neighborhoods adjacent to Chestnut Hill.  Several local organizations gather food items that are donated by individuals, and organize food pantries from which distributions are made to those in need.  We invite everyone to add a few items to their grocery baskets each week and bring them to St. Paul's. The drop off point is right inside the door to Dixon House, or in the vestibule of the church. All items will be taken to one of the distribution points.
Drivers are needed in the months ahead to deliver to St. Luke's. Ideally it is a one month gig, delivering once a week. Easy instructions provided. Questions or to sign up, please contact Charlotte Biddle; 215-247-0837.
Please consider donating:
Canned and packaged goods that have a good shelf life. Please avoid glass containers.
Vegetables/rice/potatoes, other: canned vegetables, boxed mashed potatoes, and rice
Protein: Peanut butter (or any other nut butter), nuts/seeds/trail mix, canned tuna fish, canned chicken, soup/stew-hearty, shelf stable milk. Consider donating jelly or jam in unbreakable containers to accompany peanut butter.
Carbohydrates: Crackers, granola bars, cereal
Other: Red tomato sauce, fruit cups, applesauce, canned fruit, and dried fruit.
The St. Paul's Outreach Committee thanks you for your dedication!
Charlotte Biddle, Tom O'Rourke, and Cheyenne DeMulder
Outreach Committee Co-Chairs