Events
St. Paul's is a venue for many music events including the Five Fridays benefit concert series, special choral services such as Choral Evensong, Requiem for All Souls, and Lessons & Carols, as well as other events promoted by outside groups.
---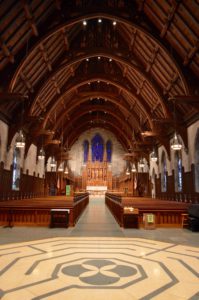 St. Paul's: A Concert Venue
Since it was completed in 1929, the beautiful neo-Gothic sanctuary of St. Paul's has been the venue of many recitals and concerts, featuring groups of different sizes, choral and instrumental, performing music both sacred and secular. It was the first home of Philadelphia's Basically Bach Festival, is a regular venue for The Mendelssohn Chorus and Vox Ama Deus and currently hosts St. Paul's own Five Fridays concert series. The church boasts an extremely fine Aeolian-Skinner organ suitable for individual recitals and accompaniment.
The sanctuary seats 400+ in the nave pews, with choir stalls, gallery pews and chairs providing possible seating for an additional 200-250. The space lends itself to a flexible arrangement of performers, with the labyrinth at the west end providing an ideal and intimate setting for smaller groups. The ceiling soars over intricate wood carvings and stained glass windows. The lighting system offers many possibilities to create atmosphere suitable for the occasion.
To inquire about use of St. Paul's for a concert or recital, please contact the Director of Music or the Parish Office.