Music Staff
Director of Music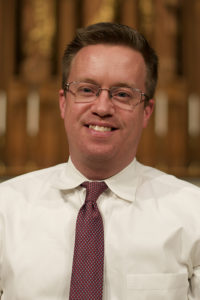 Andrew Kotylo has been Director of Music at St. Paul's Episcopal Church, Chestnut Hill since 2019. Previously he had served as Organist/Choirmaster at the Basilica of St. Peter in Columbia, South Carolina and Associate Director of Music at the historic Trinity Episcopal Church on the Green in New Haven, Connecticut. A native of Binghamton, New York, Andy holds degrees from the Indiana University Jacobs School of Music where he studied organ with Christopher Young and Larry Smith and choral conducting with William Jon Gray. Other teachers have included Carolyn Albaugh, Searle Wright, Jonathan Biggers, and John Schwandt. Andy has concertized throughout the United States and in England, with performances at conventions of the American Guild of Organists and Association of Anglican Musicians that have earned critical acclaim. A top prize-winner in numerous competitions, including the American Guild of Organists' National Young Artists Competition and Poister Competition, his performances have been featured several times on American Public Media's Pipedreams. He is also active as a private teacher, competition adjudicator, and has been a faculty member for A.G.O. Pipe Organ Encounters.
Organ Scholar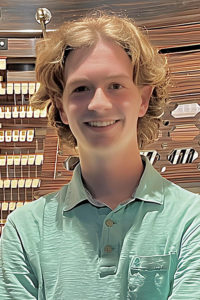 Andy Brown is an undergraduate student at The Curtis Institute of Music studying under Alan Morrison. He was recently appointed as Organ Scholar at St. Paul's where his position is underwritten by the Mrs. Cary William Bok Fellowship and further supported by an anonymous donation to the Curtis Institute of Music's organ scholar program. A native of Silver Spring, Maryland, Andy studied with Chuyoung Suter at Washington National Cathedral while in high school, and more recently with Isabelle Demers. Andy has performed across the country in many concerts, recitals and conventions. He has also appeared many times in performances broadcast online throughout the world, gaining international recognition. In 2021 he was the first-place winner of the Regional Competition for Young Organists in the Mid-Atlantic chapter of the American Guild of Organists. Andy recently served as an organist at National City Christian Church and at the National Basilica of the Immaculate Conception, both in Washington D.C.
Choristers Assistant
Soprano Diana Maye Whitener came to St. Paul's as a staff singer in 2013 and has been a singing coach for the Choristers program for the past several years. While attending The Tallis Scholars Summer School in England, she was also fortunate to study with famous sopranos Janet Coxwell and Deborah Roberts. Though her private vocal studies were in the bel canto and Wagnerian traditions, her initial training was as a chorister in the Anglican choral tradition.
9:00am Musicians
Alto Karen Richter studied voice and music education at Westminster Choir College and pursued further vocal studies with Dolores Ferraro at the Combs College of Music. She sang with the Opera Company of Philadelphia chorus and with the Philadelphia Singers. It was through the association with the late Michael Korn that Karen was introduced to retired St. Paul's organist Rick Alexander in 1986. She is now in her 37th season at St. Paul's.
Mezzo-soprano Madeleine Mackin is in her third year at St. Paul's where she is a staff singer, a 9:00am musician, and a parishioner. She also sings as a section leader for the Mendelssohn Chorus of Philadelphia and teaches private voice, piano, and ukulele lessons. Madeleine has a Bachelor of Music in Composition from Lawrence University's Conservatory of Music and was awarded honors by the Society of Pi Kappa Lambda.
Staff Singers 2023-24
Diana Maye Whitener – soprano
Sophia Santiago – soprano
Karen Richter- alto
Madeleine Mackin – alto
Royce Strider – tenor
Paul Anderson – tenor
Aaron Hoke – bass
Erik Potteiger – bass
Choral Scholars 2023-24
Livia Stites – soprano
Ella Parker-Harley – soprano