Labyrinth
Completed in 2013, the labyrinth at Saint Paul's church was designed by Renovata Studios in conjunction with a committee comprised of Saint Paul's staff and parishioners. Made possible by a generous gift from Mrs. Edith Dixon, the space in the back of the church is now a path to spiritual growth and a place where all can come to experience God's grace. All are welcome to walk the labyrinth during normal business hours, Tuesday-Friday from 9-5.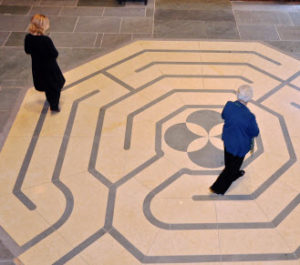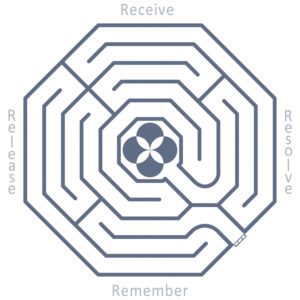 The threshold to the labyrinth is formed by three stones cut from a single stone that had been set in Ely Cathedral in the 11th century.
The shape of the labyrinth is taken from the design of our baptistery and baptismal font which are octagonal. Of the octagonal path Gernot Candolini writes, "on the eighth day everything begins anew. This labyrinth is the path of renewal. Whoever reaches the center and turns around is beginning a brand new path."
The center of the labyrinth reflects the four large interlocking circles of the rose window.
Surrounding the labyrinth are seven Haiku by various artists given by Philadelphia's first Poet Laureate Sonia Sanchez. Haiku are short, three line poems that focus one's consciousness on the present moment.