Weekend Schedule

The First Sunday of Advent: November 29
Zoom links for Sunday morning offerings will be posted on Saturday.
---
---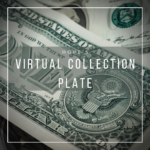 During this time when most of us are not attending church services in person, we are offering a Virtual Collection Plate. Please contribute what you would normally have given each Sunday and help Saint Paul's continue its important work!
---
Sunday, November 29th
9 a.m.
Live-streamed only! Holy Eucharist in the sanctuary with organ and choir. Dr. Carroll Sheppard is preaching and The Rev. Dan Kline is celebrating. Music is led by Dr. Andrew Kotylo, Emily Amos, and four staff singers. This service will also feature our weekly Godly Play lessons.
10 a.m.
After the 9 a.m. live-streamed service, please join us for Zoom Coffee Hour.
10-10:30 a.m.
Middle/High School Check-in (via Zoom)
10-11 a.m.
Parents' Exchange (via Zoom)
11 a.m.