News
A Message from The Rev. Daniel Kline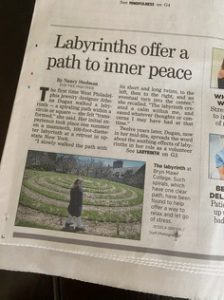 A few weeks ago, I was contacted by the Philadelphia Inquirer with a surprising request: "Can you tell us more about the St. Paul's labyrinth?" My immediate thought was, "You should talk to my wife, Jessie+!" As a trained spiritual director and experienced retreat leader, she has done a lot of work with labyrinths. Relatively speaking, I'm something of a labyrinth novice.
Read the Inquirer article here.
My first experience walking one of these spiritual mazes was at Grace Cathedral in San Francisco, the birthplace of the modern labyrinth movement. You'd think I'd be an expert. It was part of a day retreat in seminary and I remember walking rhythmically across their several labyrinths, admiring the vaulted ceilings and experiencing the presence of God that beautiful architecture provides in its own way. At the same time, that wasn't that long ago and, to be honest, I didn't realize the magnitude of what I had stumbled upon when I arrived there.
I didn't reach Grace Cathedral as a labyrinth pilgrim finally arriving at a holy shrine that I had been secretly longing to travel to for years. When I was in New Zealand a while back, I was touring the country with some Samoan friends. I told them we had to stop at Hobbiton, the movie site from Peter Jackson's Lord of the Rings trilogy, which is now open to tourists like a Middle Earth Disneyland. My friends didn't get why I would want to stop – they hadn't seen the films or read the books. When we got there, we stood in line waiting to get to Bilbo Baggins' green door. I remember being awestruck that I was actually standing there – somewhere on the other side of the world (or in another fantasy universe). I half expected a hobbit to pop out of the hill. I looked over at my friends to see the look on their faces. It was loud and clear: "This is pretty cool, but what's the big deal? Why are people from all over the world coming here? Not sure this is worth the long wait in line or the long drive to get here." For my friends, it was just another hill, just another door. All I could think was, "How many Tolkien fans would give their right arm to be here?!" My experience at Grace Cathedral was like my friends' experience in the rolling hills of the Shire – taking for granted what others longed for.
I think our own St. Paul's labyrinth is sort of like that. I meet a lot of strangers who come to our campus specifically for the labyrinth. I imagine we'll be getting some more thanks to the Inky article. But how many of us St. Paulers hardly realize it's there? We can take for granted this wonderful gateway to a deep spiritual practice that others travel for miles to see and walk. Do we take advantage of the easy access we have to our labyrinth or do we say to ourselves as we walk over it or around it to the pews, "One of these days, I'll walk it" but never do.
For a large portion of the pandemic, we did not have public worship services in our building. We did, however, leave the church open for prayer during the week so that people could come and speak to God about all of the troubles that we were going through as individuals and a society. One way people could pray was by walking on the labyrinth.
Many of us are finding it difficult to pray with words or to sustain any sort of long conversation with God. The solitude and stress of the past year have given us brain fog or maybe we are too depressed or angry at God for all that we've been through. Or maybe we know how to pray for our own individual needs, but we have no idea how to pray about the work of reconciliation needed when we are plagued with the ills of racism, violence, and political divisions. The labyrinth can be a way to begin to learn to pray with all of those challenges in front of us.
The earliest followers of Jesus were called followers of the Way (Acts 9:2). One of the resurrection stories is about Jesus walking along the way with two disciples to the village of Emmaus, comforting them, explaining the Scriptures to them (Luke 24:13-35). There is something about moving our feet, walking along the path, that opens new ways of understanding, new ways of communicating with God, new ways of learning how to talk with one another. It's no accident that the national church has picked the labyrinth as a part of its logo for racial reconciliation work. We can release grudges or sorrows or anxieties without even opening our lips. We can pray by walking the labyrinth.
That's the beauty of labyrinth spirituality. It is very accessible, whether you've been practicing for years or are a novice, like me. We don't have to know theology to walk it. We don't have to know the prayers. We don't have to be able to articulate the dark clouds in our hearts that have no words. We can place our feet on the labyrinth and find peace. All we have to do is take the first step. If you're not comfortable coming to in-person worship yet, walking the labyrinth may be a good first step in testing out spirituality in our building again. Come and see!
The Rev. Daniel J. Kline