News
Five Fridays V: Piano Trio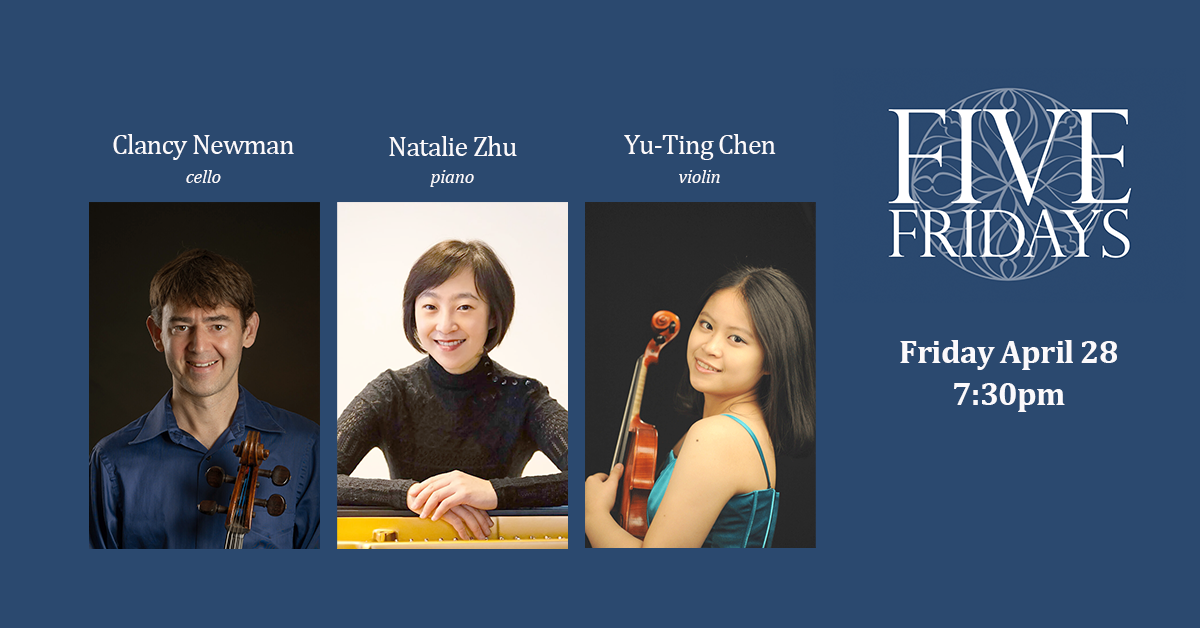 Yu-Ting Chen, violin
Clancy Newman, cello
Natalie Zhu, piano
Friday April 28, 2023 at 7:30pm
on the labyrinth at
St. Paul's Church, Chestnut Hill
In the final concert of the 2022-23 season, these three acclaimed artists will be heard in a compelling program of music by Schoenfield, Mendelssohn, and Brahms.
Since 2011 the Five Fridays series has raised funds to benefit two local organizations that combat hunger and homelessness in NW Philadelphia.  Thanks to support from generous sponsors and concert-goers, all net proceeds from the series will be shared between Face to Face Germantown and Family Promise of Philadelphia (formerly Philadelphia Interfaith Hospitality Network).
A reception to meet the artists will follow the concert.
Tickets online or at the door | $30 General Admission, $5 Student
> PURCHASE TICKETS <
Follow Music at Saint Paul's in Eventbrite for ticketing updates.
---
PROGRAM
Paul Schoenfield —  Cafe Music, II: Andante Moderato
Felix Mendelssohn — Trio No.1 in D minor, Op.49
Johannes Brahms — Trio No.1 in B major, Op.8
---
THE ARTISTS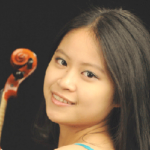 Yu-Ting Chen joined The Philadelphia Orchestra in 2017. She received her bachelor's degree in violin performance from the Curtis Institute of Music, where she studied with Ida Kavafian and Shmuel Ashkenasi; her earlier studies in Taiwan were with Chun-Yinh Lee and I-Ching Li.
A native of Taiwan, Ms. Chen made her solo orchestral debut at the age of seven, performing Mozart's Third Concerto with the National Taiwan Symphony. Since then she has worked with several ensembles, including the Royal Academy Symphony; the Cape Symphony; the "Mihail Jora" State Philharmonic in Varallo Sesia, Italy; the National Taiwan Symphony; the Macau Youth Symphony; and the Taipei Symphony. She has also performed extensively in many prestigious halls, such as the Royal Festival Hall, Duke's Hall in London, the Macau Cultural Center, the HOTA—Home of the Arts in Australia, the BHS Performing Arts Center, the National Concert Hall and National Recital Hall in Taipei, the Taiwan National Symphony Orchestra Recital Hall, the National Taichung Theater, and Weiwuying Concert Hall.
In addition to winning top prizes at the Menuhin Violin Competition in 2016, the Stradivarius International Violin Competition in 2010, the Taiwan National Music Competitions in 2010 and 2008, the 1st Amadeus Musical Competition in 2008, the 5th Asian Rising Star Competition in 2006, the 16th Europe FLAME Competition in 2005, and the 5th Osaka International Music Competition in 2004, Ms. Chen has also received a scholarship and the loan of a Testore violin from the Chimei Foundation in Taiwan, and the Chimei Arts awards in 2013 and 2014. In 2016 she received the Milka/Curtis Violin Prize at the Curtis Institute of Music.
Over the span of her musical career Ms. Chen has participated in master classes with such world-renowned artists as Miriam Fried, Anne-Sophie Mutter, Vadim Repin, Kurt Sassmannshaus, and Lu Si-Qing.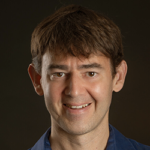 Cellist Clancy Newman has enjoyed an extraordinarily wide-ranging career, not only as a cellist, but also as a composer, producer, writer, and guest lecturer. He began playing cello at the age of six, and at twelve he received his first significant public recognition when he won a Gold Medal at the Dandenong Youth Festival in Australia, competing against contestants twice his age. In the years that followed, he won numerous other competitions, including the Juilliard School Cello Competition, the Astral Artists National Auditions, and finally the prestigious Naumburg International Competition. He has performed as soloist throughout the United States, as well as in Europe, Asia, Canada, and Australia. A recipient of an Avery Fisher career grant, he can often be heard on NPR's "Performance Today" and has been featured on A&E and PBS. A sought after chamber musician, he is currently a member of the Clarosa piano quartet, and he has also toured as a member of "Musicians from Marlboro" and performed with the Chamber Music Society of Lincoln Center.
As a composer, he has expanded cello technique in ways heretofore thought unimaginable, particularly in his "Pop-Unpopped" project, where he writes solo cello caprices based on pop songs. He has also lectured on the Golden Ratio Method, a method of composition he invented, and has been featured on series by the Chamber Music Society of Lincoln Center and the Chicago Chamber Musicians. In March 2019 his piano quintet, commissioned by the Ryuji Ueno Foundation, was premiered at the opening ceremony of the National Cherry Blossom Festival in Washington DC.
Also interested in other forms of expression, Newman produced an album entitled "From Hungary to Taiwan" for the Formosa String Quartet, which is available on Bridge Records. In 2021, the Kingston Chamber Music Festival commissioned him to produce four educational videos to assist school teachers as they navigate the covid-19 pandemic, a project that involved script writing, set designing, video editing, animation, and acting. Mr. Newman is a graduate of the five-year exchange program between Juilliard and Columbia University, receiving a M.M. from Juilliard and a B.A. in English from Columbia. His teachers have included David Gibson, Joel Krosnick and Harvey Shapiro.
Known for captivating interpretations of a wide repertoire,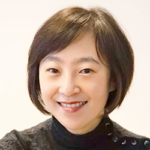 Natalie Zhu is the recipient of the Avery Fisher Career Grant, Musical Fund Society Career Advancement Award, the Andrew Wolf Memorial Chamber Music Award, and Astral Artists Award. The Philadelphia Inquirer heralded Ms. Zhu in recital as a display of "emotional and pianistic pyrotechnics." Selections from her live performances are frequently broadcast on National Public Radio's "Performance Today."
Ms. Zhu has performed throughout North America, Europe, and Asia as a soloist, recitalist, and chamber musician. She has appeared as soloist with the Indianapolis Symphony, The Curtis Orchestra, Chamber Orchestra of Philadelphia, Princeton Chamber Orchestra, the Bergen Philharmonic, China Philharmonic, and the Colorado Philharmonic National Repertory Orchestra. Ms. Zhu was frequently requested by The Philadelphia Orchestra as the orchestral pianist with the Philadelphia Orchestra under the baton of maestro Yannick Nézet-Séguin. She made her European debut in 1994 at the Festival de Sully et d'Orleans in France and has also given solo recitals at Carnegie's Weill and Zankel Hall in New York City. Ms. Zhu began touring with renowned violinist Hilary Hahn in 1997. Ms. Zhu and Ms. Hahn have maintained a partnership with tours around the world, including a hugely successful Carnegie Hall recital debut. Ms. Zhu and Ms. Hahn released a CD for the Deutsche Grammophon label in 2005, as well as Suzuki Violin Books 1-3 in 2020.
Natalie Zhu began her piano studies with Xiao-Cheng Liu at the age of six in her native China and made her first public appearance at age nine in Beijing. At eleven she emigrated with her family to Los Angeles, and studied with Robert Turner and Li Ming-Qiang. By age fifteen she was enrolled at the Curtis Institute of Music where she received the prestigious Rachmaninoff Award and studied with Gary Graffman. She received both a Master of Music degree and Artist Diploma from the Yale School of Music where she studied with the late Claude Frank. Ms. Zhu lives in the Philadelphia suburbs with her husband and daughter.
---
Details of the 2023-24 season will be published shortly at fivefridays.org.