Five Fridays

* UPDATE FOR APRIL 2021 *
Five Fridays … Only Once!
Friday April 23rd at 7:30pm
Music by Astral Artists for Mandolin, Piano, and Soprano
Full details of artists, repertoire, and ticket links.
Purchase tickets to view the concert until April 30th.
Make a secure online donation to Five Fridays: choose "Make a donation", direct it to Music, and add "Five Fridays" in the optional memo.
---
The 2020-2021 season was to have been our tenth anniversary season. However the COVID-19 pandemic impacted all in-person activities at Saint Paul's, and it was determined that the most prudent course of action was to cancel the entire season.
The ubiquity of "virtual" concerts during this year of closure have persuaded us that a single concert for this season would be not only possible, but valued as a way to continue our support for our beneficiaries, to offer a performing opportunity to struggling artists, and to remain connected with our loyal sponsors and audience members.
We are therefore excited to announce that a virtual Five Fridays concert will be streamed to ticket holders, with all proceeds benefitting Face to Face Germantown and Philadelphia Interfaith Hospitality Network.  
---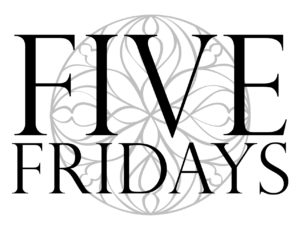 To all our artists, sponsors, and audience members: we are deeply grateful for your support to date. We hope to see you again in the 2021-22 season, and invite you to stay connected with Music at Saint Paul's via our occasional newsletter (sign up here). In the meantime, we invite you to consider directly contributing to our two beneficiary organizations, Face to Face Germantown and the Philadelphia Interfaith Hospitality Network, which need our support more than ever at this time.
THANK YOU!
---
Sponsors
Generous business and individual sponsors have underwritten the expenses of running the series each season, allowing the net proceeds from ticket sales to be passed on to our two beneficiaries. Please contact the Director of Music if you have questions about becoming a Five Fridays sponsor in the future.
2019-2020 Season Sponsors
BUSINESS SPONSORS
Glenmede Investment & Wealth Management
Beyer Studio, Inc.
Kouvenda Media
Univest
Chestnut Hill Hotel & Market at the Fareway
Allison Romig Catering
Saint Paul's Episcopal Church
Marilou Buffum, Realtor
Dental Arts of Chestnut Hill
John P. Grigger, D.D.S.
Our Mother of Consolation Church
Our Mother of Consolation Parish School
Fred H. Straub, Jewelers
Kent and Starla Keith
Iron Hill Brewery, Chestnut Hill
Fiore Studio of Classical Singing
Chestnut Hill Music Academy
Silverstone B&B
Emery Brothers
INDIVIDUAL SPONSORS
Jim and Marti Bondelid
Thomas Callis and Tamara Smith
Stephen and Cynthia Clowery
Jeanette Cord
Wm. Stewart Graham
Barbie and John Kimberly
Wendy Munyon
Tom and Jody O'Rourke
Arabella and James Pope