Five Fridays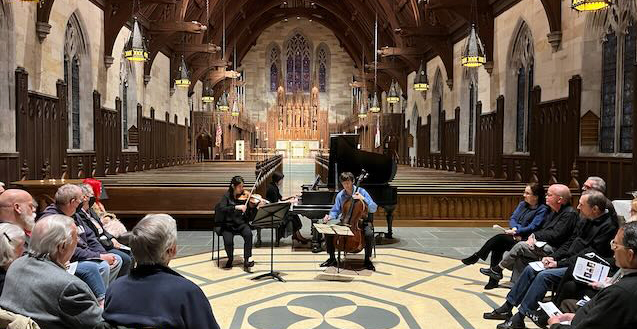 April 2023: Yu-Ting Chen, violin; Clancy Newman, cello; Natalie Zhu, piano
The Five Fridays concert series was launched in 2011 as a mission project of Music at St. Paul's. Its twin goals are to bring discerning audiences into the beautiful sanctuary of St. Paul's to enjoy excellent chamber music, and to distribute ticket proceeds to two local beneficiary organizations that serve our hungry and unhoused neighbors in NW Philadelphia.  The series has steadily grown in attendance, and concerts have featured a wide variety of instrumental and vocal performances. Typically they take place on the intimate setting of the labyrinth, last 60-90 minutes, and are followed by a reception to greet the artists.
---
Announcing the 2023-24 Season
6 OCTOBER 2023
Danbi Um, violin | Amy Yang, piano
10 NOVEMBER 2023
Vox Fidelis, vocal ensemble
2 FEBRUARY 2024
Sonya Ovrutsky Fensome, piano
15 MARCH 2024
Lily Wintringham, flute | Jonathan Wintringham, saxophone | Zhenni Li, piano
19 APRIL 2024
Puget Sound, piano trio
---
We are seeking Sponsors for 2023-24
We could not present this series without the support of our generous sponsors.
Will you consider becoming a sponsor in 2023-24?
INFORMATION FOR FIVE FRIDAYS SPONSORS
this pdf document includes:
Summary
Community Benefits
Management Costs
SPONSORSHIP FOR SEASON 2023-24
Business Sponsor Form
Individual Sponsor Form
Please review the document above to learn more about the Five Fridays concert series, and the benefits of becoming an Individual or Business Sponsor.  Sponsors underwrite the expenses of presenting the series each season, increasing the net concert proceeds that are passed on to our two beneficiaries, Face to Face Germantown and Family Promise of Philadelphia. Sponsorship is available at different levels; benefits include complimentary tickets to concerts, listing on this page and in program booklets, and advertising space for business sponsors.
We are deeply grateful to the 2022-23 sponsors listed below.
Business Sponsors
Beyer Studio, Inc.  |   Glenmede Trust Co.   |   Kouvenda Media  |  The Ambler Theater
The Hiway Theater  |  Univest  |  Chestnut Hill Hotel  |  Market at the Fareway
Next Level Financial Advisors  |   Fred H. Straub, Jeweler  |  Our Mother of Consolation Parish
Our Mother of Consolation School  |  Dental Arts of Chestnut Hill
Allison Romig Catering  |  Susan Schindler
Fiore Studio of Classical Singing  |  Chestnut Hill Music Academy
The Stagecrafters Theater  |  The Restaurants of Chestnut Hill
Individual Sponsors
Stephen and Cynthia Clowery  |  Jeanette Cord  |  Wm. Stewart Graham
Charles W. Head Jr. and John Faggotti  |  John and Barbie Kimberly
Lorraine and Mike Knudson  |  Richard and Diane Kolb   |  Wendy Munyon
Tom and Jody O'Rourke | Arabella and James Pope
Tamara Smith and Thomas Callis