News
This Sunday's celebration of St. Peter and Paul-rejoice and sing!
There is a lot to celebrate! After a long and difficult year, the Vestry has approved new guidelines for worship that permits fully-vaccinated people to come to church (without pre-registration, masks, and restrictions on singing). Non-vaccinated people or people with immune related issues may continue to wear masks. Details of this new and exciting development are on the website. So, this Sunday, is the feast of St. Peter and Paul and it is an appropriate liturgical way for us to really take this opportunity to be together, with all our differences and perspectives to simply enjoy what God has given us. We are thankful for health and the safety of our family, friends, and neighbors, for the political will and economic foresight to deal with this global pandemic and especially for those institutions that have sustained and protected us, especially healthcare and the faith community.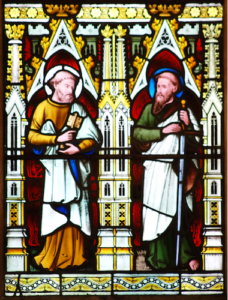 Peter and Paul were deeply flawed and opinionated individuals. They probably did not like each other. They had quite different views about God, Jesus, and the emerging movement that we know today as the church. They were martyred by the Roman State and in different ways, both contributed to the ways we think about our faith and place in the cosmos. Their legacies were celebrated at important moments in church history, (5th and 14th centuries) when it was important to hold up compromise and diversity as a key Christian value. Their conflicts and differences were eventually healed by history and the interpretation of their stories. The seeds we all sow in our families, institutions and communities need time to root and grow and it is only long after our deaths that the contribution we have made (both positive and negative) can be fully understood and appreciated. This is a theme we will celebrate on Sunday as we emerge from 18 months of confinement. So many of us are fully vaccinated and we have a little more confidence to get out of our bubbles, yards and houses and reconnect with the world and simple pleasures we took for granted. It is still important to be cautious and not everyone is on the same page yet (especially around masks, issues about transmission and there is much to learn about the Delta variant that is become the most virulent strain of the COVID-19 virus. I feel like one of those underground creatures who can come up for air and exercise during the summer months, knowing this is good for body, soul and mind and expecting the Fall will bring new challenges and restrictions – so celebrate while we can! We deceive ourselves if we think this crisis is fully behind us.
On 26th June, (the feast of John the Baptist) I celebrate my 44th year of ordination to the Diaconate and on 29th (the actual day the church commemorates Peter and Paul) the 43rd year of ordination to the priesthood. Many clergy are ordained around this season, so others will be reflecting on their journeys as I am this weekend. This also marks the final month of active ministry that both concludes my time as Interim Rector with St. Paul's and 39 years working within the Episcopal church in the USA. It has been a wonderful journey and a time for me to reconnect with some of the people and institutions that formed me. Peter and Paul, seemingly opposites and rivals, represent a mysterious integration of forces that emerge for good. If we are to become the very real human beings that God has chosen to dwell in (no-one is excluded!) we can learn something about the deeper work on personal integration implicit in the Peter/Paul story. How will we personally and collectively integrate the mixed experiences of these past 18 months, rather than simply forgetting all we have discovered about ourselves? How do lay people and clergy share and honor the responsibilities they have to do the work God is giving us to do -another type of compromise and deep integration that is often veiled in conflict? This will be the most important question St. Paul's will be asking itself in this new and exciting relationship with Rev. Eric Hungerford who will become the 12th Rector here.
We have a great weekend ahead. Come as you are and simply enjoy the act of breathing. Celebrate in whatever way makes sense to you. Rejoice and sing!
Albert J. Ogle