News
Thank you letter from Albert Ogle
Dear friends at St Paul's: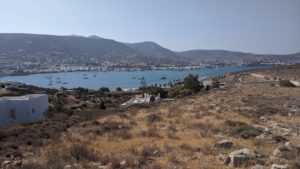 I have spent the last three weeks visiting family, friends and having some new experiences in Ireland. It has been a wonderful journey as I enter into the mysterious world of retirement and to reflect on the many relationships and interests that shaped me here and in the USA. A coveted week of painting in the middle of the Connemara mountains and dangling on the edges of the Cliffs of Moher in the west, has been particularly stimulating. I want to thank the good people of St. Paul's for your generous gifts to me, allowing all this to happen. I packed easel and paints in my luggage, part of your wonderful gifts to me, so St. Paul's continues to be a vehicle of inspiration as I spiraled my way back in time to the European beginnings of my own spiritual formation.
Europe is still in various forms of lockdown and concern over the impact of the pandemic. Ireland intends to fully open in late October with over 80% of the population fully vaccinated. Cafes and restaurants require proof of vaccination, and a diligent contact-tracking system is in place here. I will make my way down through Vienna (been on my bucket list for a while) and down into the Mediterranean area where I will meet Mile following his time with his family. It has been over two years since either of us have spent time with family, so this is all really good and a productive break from our busy lives in Philadelphia.
By experiencing how other countries are dealing with the pandemic, I am amazed how resilient human beings are and how we are all adapting to our new forms of fragile connectivity. Churches and institutions here, as with St. Paul's, have had to creatively use technology and other forms of relating, and wonder what the coming church and academic year will look like. We know so much more than we did a year ago so informed decision-making at all levels will continue to help us walk these ever-changing balancing acts that were so familiar at St. Paul's. The continuity and stability of lay and staff leadership infused with new energy from Fr. Eric and the parish overall, will be wind under your wings for the journey ahead. One does not realize the burden of responsibility that this collective leadership demands from each of us, until it ends, so I celebrate all the gifts and care and love you bring to one another. I had a wonderful time with you and although it was only two years, it felt deeply intimate and timeless. Your welcome, support and recent generosity (to allow me this time of celebration and renewal) will always be what I remember about St. Paul's, Chestnut Hill.
I wish you all, including Fr. Eric and his family, every blessing as you move into the new church year, hoping your anxieties are fleeting and your dreams and hopes give you just enough light to go where God is wonderfully fashioning us. Thank you for the tangible gifts you gave to me. I loved the etching, the prayer, the city council's citation and all the tributes, cards, the art supplies, e mails and most of all, the encouragement and affirmation. Thank you also for the intangible gifts you gave to me and know there will always be a special place in my heart for you all.
Blessings abound,
Albert