News
No Handle? No Lock? No Key?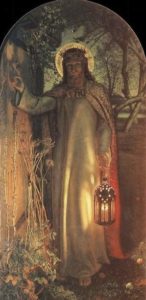 Unlike the famous door in William Holman Hunt's The Light of the World, St. Paul's has plenty of doors with locks, knobs, and too many keys in circulation!
Next Thursday 10 August, the lock smith will start re-keying all spaces on campus.  It will take the better part of a week to replace our sixty-plus locks.  We are also instituting a comprehensive key management system.  If you currently have a key or think you need a key, please send a note to Paul Diefenbach in the office – info@stpaulschestnuthill.org.  In the subject line note "Keys".  Provide your name, the ministry that you work with, and space(s) you need to access.  That will allow us to identify the number of keys needed.  We will be back in touch with new access information before the beginning of the program year.
Please contact any member of the property committee with questions or comments.
PS: For those who don't know why there is no handle on the door, as my elementary school art teacher, Ms. Jackson, said, "It's because you open the door of your heart from the inside."