News
6/24/21: Renovations Update
The campus is buzzing with activity right now.
In my previous message, I reported on the storm drains under the parish hall that had disintegrated.  As of this writing, that work is substantially complete and we will no longer have rain water standing in the crawl space.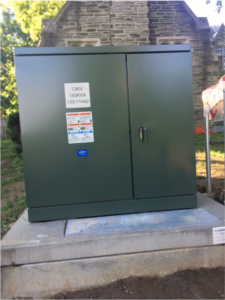 The new 1000 amp electrical service is in place and will be energized next week.  Subsequently panel replacement will begin throughout the buildings.
On Monday 28 June, cleaning work will start in the Sanctuary.  A lift will be placed in the chancel to start cleaning the woodwork – ceiling, arches, angels, reredos, choir stalls, everything. They will be in this area for approximately two weeks.  On Tuesday 06 July the masonry restoration team will start cleaning the stonework.  They will also start at the chancel.  Once the chancel is completely cleaned then they will work back toward the entrance doors.  The total operation will take approximately eight weeks.  Lamps in the light fixture will be replaced while we have access.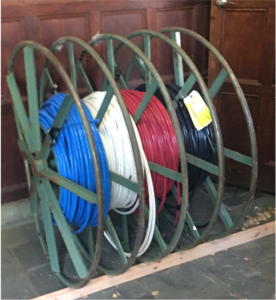 NB: During this time the sanctuary will be closed to all staff and visitors until 4:00 pm each weekday.  The sanctuary will be available for weekend services and for funerals and weddings as needed.
Also on 06 July the long awaited sewer work will start with closing East Chestnut Hill Avenue to traffic on the block between Germantown Avenue and Norwood.  Yet another NB: Please be aware of detours during working hours while this work is happening.  The duration is approximately two weeks.
We continue to unravel the mystery that is St. Paul's physical plant.  Before the present church was built in 1928, the vestry authorized the construction of the parish hall in 1924.  This major expansion incorporated a portion of the original 1850's chapel and provides us today with the kitchen, Alexander Room, music spaces, the bowling alley and dance studio as well as the Swift Bird room and other spaces upstairs.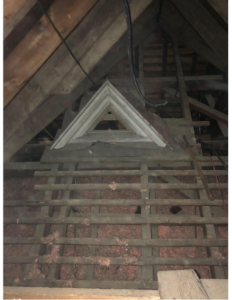 If you look at old photographs of the chapel, the roof included eyebrow vents and dormers.  The 1924 parish hall project added today's transept and the vaulted ceiling.  The roof was replaced at this time and the dormers went away.  Or so we thought.  During investigation above the vaulted parish hall ceiling we found that the eyebrows were left in place and just incorporated into framing for the new roof.  The photo below shows the original vent still in place above the parish ceiling.  The framing around it includes some of the original trusses for the chapel.
What else will we discover during our renovations?  Stay tuned.
As always, thank you for the contributions and pledges that are making this work possible.