News
A Time of Waiting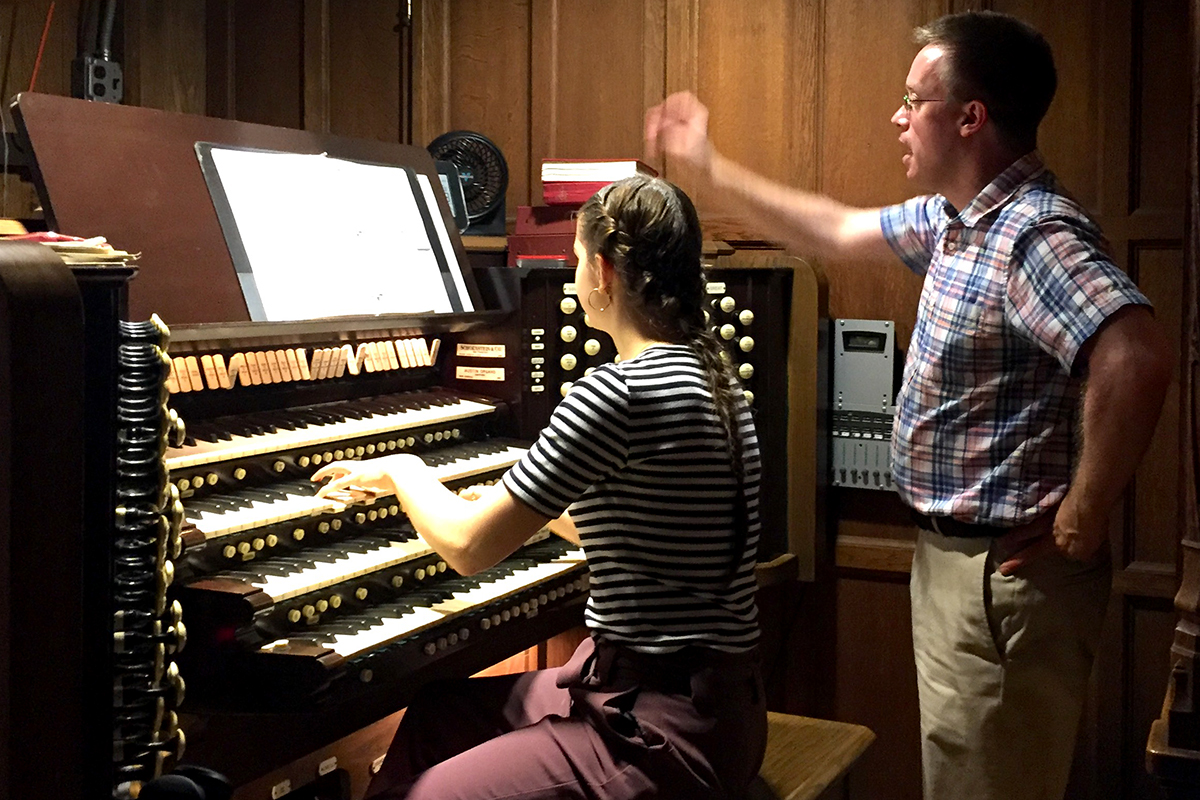 Emily Amos and Andrew Kotylo
Waiting continues to be our universal shared experience in this pandemic winter … waiting for vaccine to be available, waiting for restrictions to be lifted, and waiting for spring to arrive. Happily, while at St. Paul's we eagerly await reopening for worship and the full resumption of our music program, there are reassuring messages of progress on the ongoing renovation of our beloved Aeolian-Skinner organ. We expect to post further updates on that work soon.
In the meantime, the instrument in its temporary configuration continues to serve as the musical underpinning for weekly worship services that are being streamed live or prerecorded. It is also in use for practice, and our organ scholar Emily Amos is grateful for the opportunities it provides as she continues her second year of studies at the Curtis Institute.
What does the organ consist of, now that about three-quarters of the pipes have been removed to the Russell & Co. organ shop in Vermont? The pipes in the ceiling of the church remain in place, not visible to a visitor standing in the nave, but providing part of the core organ sound. These are supplemented by the digital stops that have been present in the church since the 1990s in the ceiling and the gallery. New digital stops have been added temporarily to replace the most important voices that are missing while the chancel divisions are being renovated. For the uninitiated, digital stops produce sounds electronically that are rendered through speakers; they can mimic almost perfectly the true sounds of a pipe organ. They are frequently used to supplement the range and variety of voices in an instrument which has limited space or resources to carry the equivalent pipework.
We are blessed that our temporary arrangements are providing a very acceptable quality and quantity of sound in this interim time. Take a listen to Music Director Andrew Kotylo letting rip with the postlude on Sunday February 14th, as we celebrated the life and legacy of the Blessed Absalom Jones, the first African-American ordained priest in the Episcopal Church.

Toccata on "Lift Every Voice"  Mark Miller (b. 1967)
A graduate of Juilliard and Yale Universities, Mark Miller is a faculty member at Drew University, Minister of Music at Christ Church, Summit, NJ, and widely published composer. He operates under the principle "that music, social justice, and the beloved community are inextricably tied."
—
"St. Paul's remarkable organ is being refurbished"
by Michael Caruso, Chestnut Hill Local, February 26, 2021