Rummage Sale
Note: There will be no 2021 Rummage Sale due to COVID-19!
The St. Paul's Annual Rummage Sale has been a tradition for so long that no one remembers which year it actually started. Each year, the proceeds from this massive sale go towards local charities working to end hunger and homelessness. Preparations for the event begin in the summer, with donations accepted on Wednesdays and Sundays, and the doors open to the public on the weekend after Labor Day.
If you've been thinking about cleaning out your attic, basement, or that hall closet that is overflowing with stuff, set your unwanted items aside and bring them to St. Paul's once we are open for donations.  If you have a chance to pre-sort the items, that is appreciated.  Please share this donation opportunity with friends, neighbors and colleagues. The success of the sale is based on the quality and quantity of items available. Tax letters are available on all collection days in the main Parish Hall.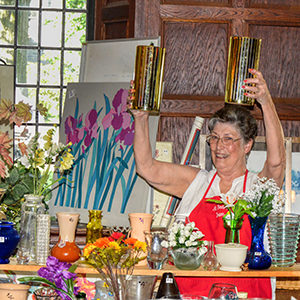 Volunteers are what make the Rummage Sale great, and we are always happy to see new faces! We have opportunities to suit everyone, from leadership positions to one-time volunteer shifts. If you are interested in volunteering with us, contact us at any time during the year.
Small grants are distributed following the sale.  Recent beneficiaries have included:
Germantown Ave Crisis Ministry
House of Grace Catholic Workers
Philadelphia Interfaith Hospitality Network
Room at the Inn