COVID-19 Response
Updated 3/24/2021
As of Palm Sunday (3/28/21), we are allowing 50 parishioners at our indoor services. Please click here to sign up to attend in person.
Our 11 a.m. service on Sunday morning will also be live-streamed, and can be found on our Weekend Schedule page.
A Zoom Coffee Hour follows the 11 a.m. service at 12 noon. Other ministries and activities (Parents' Exchange, Godly Play, etc.) meet via Zoom during the 10 a.m. hour. All Zoom links are posted on the Weekend Schedule page on Saturday evenings.
Our Adult Education series continues at 11 a.m. with Adult Forums or Clergy Conversations, with topical and stimulating speakers to feed the mind and soul.
The church is open from 9 a.m.-5 p.m. Tuesday-Friday for individual prayer and meditation.
The Parish Office is open with limited staff from 9 a.m.-5 p.m. Tuesday-Friday.  Other staff are working from home.
Baptisms, weddings, or funerals may be arranged through the clergy, and are subject to COVID protocols.
No church programs are taking place in-person.  Some activities are online:

Vestry and many Committee meetings
Sunday Adult Education Forum
Community meetings related to the Rector Search
Thursday Adult Choir and chorister rehearsals
Godly Play, Confirmation class, Middle and High School Youth, Parents' Exchange
Wednesday Book and Action Club
Wednesday Bible Study

Some specific community events are being arranged with COVID modifications.
---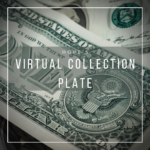 During this time when most of us are not attending church services in person, we are offering a Virtual Collection Plate. Please contribute what you would normally have given each Sunday and help Saint Paul's continue its important work!