COVID-19 Response
Updated 8/28/2021
As of August 28, 2021, the following changes were approved by the Vestry:
+ Members of the congregations at all services must wear masks except when putting the Host in their mouths. (The ushers will have masks available for those who forget them.)
+ All service participants – clergy, choir, acolytes, lay eucharistic ministers, lectors – must be fully vaccinated.
+ The choir may sing without masks but must wear them when not singing.
+ Other participants will be masked except when speaking or reading.
+ The congregation will be seated starting a few rows back from the steps to the chancel.
+ Communion will be distributed at the foot of the steps to the chancel so that the members of the congregation will not have to walk in front of a singing choir.
+ Members of the congregation may sing hymns and other music but only while masked.
For Choral Evensong:
In accordance with policy of the St. Paul's Vestry and guidelines of the City of Philadelphia, persons attending services at St. Paul's, including Choral Evensong on September 26th, are required to wear masks while inside the church buildings. Singers and other service participants are required to be fully vaccinated.  A simple reception will be held outside the church following the Evensong service, weather permitting.
---
8/28/21: COVID-19 update
Dear St. Paul's Family,
I send you my warm greetings and I hope you are all having an enjoyable summer! Your vestry and I had our monthly meeting on Monday and I am writing to inform you about the updated Covid-19 worship protocols which your vestry and I have decided upon in light of the ongoing spike in cases caused by the Delta Variant. These protocols come in conjunction with recommendations from the City of Philadelphia's health department along with ongoing guidelines from the CDC.
Effective this Sunday, until such time as this spike in cases diminishes, we will be requiring masking for everyone who is attending Sunday worship regardless of vaccination status.
The exception to this will be that those who serve as clergy and lay leaders in the chancel (i.e. Eucharistic Ministers, Lay Readers, and Choir Members) will be permitted to unmask while speaking or singing, but in order to participate unmasked, all those involved in leading worship will be required to show proof of vaccination. A designated individual from each worship ministry will have a roster of all those who are on the ministry schedule and will sign off on each name after proof of vaccination is presented. The congregation will be permitted to sing hymns while masked. When it comes to young children who at this time are unable to be vaccinated we will be requiring masking including for all those who are serving during worship.
We feel that this is the safest way to move forward at this time. It is our hope that as booster shots begin to roll out in the fall and with the possibility of children being vaccinated soon we will be able to ease up on these measures once the spike begins to recede. Please continue to pray with us for the doctors, nurses, scientists and medical professionals who are persevering during this time. Please also continue to pray for an end to the suffering caused by this pandemic. I have the utmost confidence that God will see us through these turbulent waters and onto safer shores.
Yours in Christ,
The Rev. Eric Hungerford, Rector
Ruth Desiderio, Senior Warden
---
The church is open from 9 a.m.-5 p.m. Tuesday-Friday for individual prayer and meditation.
The Parish Office is open with limited staff from 9 a.m.-5 p.m. Tuesday-Friday.  Other staff are working from home.
Baptisms, weddings, or funerals may be arranged through the clergy, and are subject to COVID protocols.
Most church activities are online:

Vestry and many Committee meetings
Sunday Adult Education Forum
Community meetings related to the Rector Search
Godly Play, Confirmation class, Middle and High School Youth, Parents' Exchange
Wednesday Book and Action Club
Wednesday Bible Study

Some specific community events are being arranged with COVID modifications.
---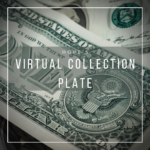 During this time when many of us are not attending church services in person, we are offering a Virtual Collection Plate. Please contribute what you would normally have given each Sunday and help Saint Paul's continue its important work!