COVID-19 Response
Updated 4/18/2022
As of March 21, 2022, the following changes were approved by the Vestry:
+ MASKS ARE NOW OPTIONAL FOR ALL SERVICE PARTICIPANTS AND THOSE ATTENDING CONCERTS AND OTHER SOCIAL EVENTS AT ST. PAUL'S.
+ All service participants – clergy, choir, acolytes, lay eucharistic ministers, lectors – must be fully vaccinated, and as of January 31st, must be boosted against COVID-19. Service participants: click here for additional information and for link to upload vaccine card image.
+ Masking will continue to be required for children attending Godly Play on Sunday mornings for the time being. Disposable masks will continue to be provided for anyone who needs them.
+ Communion is in one kind only (bread).
• Communion will be distributed at the foot of the steps to the chancel so that the members of the congregation will not have to walk in front of a singing choir.
---
COVID-19 update
Dear St. Paul's Family,
As we enter into Spring, we move forward with much gratitude that we are emerging from the Omicron variant. Case counts in our area remain low and vaccination rates in our community are high. This provides us with reason for optimism and thankfulness.
Your vestry and I met on Monday evening and I thanked them for their thoughtful navigation of protocols related to Covid-19 throughout the course of this pandemic and this transitional time.
In light of the recent changes to the CDC masking guidance, the lifting of Philadelphia's indoor masking mandate, and most recent diocesan guidelines, we have decided to update our protocols for worship.
Effective this week, we will be making masking optional at our worship services. We will also allow for the resumption of coffee hour in the Narthex or Dixon House. We will also be allowing the nursery to be reopened for younger children beginning next month.
For the time being, we will continue to serve communion in one kind (bread only and not the chalice) and at the 11:00 service we will continue to serve communion at the base of the chancel steps.
Please note that masking will continue to be required for children attending Godly Play on Sunday mornings for the time being. Disposable masks will continue to be provided for anyone who needs them.
(If case counts remain low into the spring we will consider allowing for the resumption of the common cup at communion, the serving communion at the rail at the 11:00 service, and the resumption of using baked bread).
You, our St. Paul's family, have proven yourselves to be extremely resilient and adaptable during this time. We have had no instances of community spread in the last 7 months and we have shown ourselves to be able to "pivot" quickly when we need to. You are to be commended for that. If we end up with a situation in the future where there is another variant we can pivot again. I am grateful for each and every one of you. You are brave and admirable community and I am honored to be journeying through this challenging time with such a faithful group of people. Please remember that the best way for us to protect ourselves and one another from Covid is to be vaccinated. If you are eligible have not had an opportunity to be vaccinated I urge you to do so as soon as you are able.
As we move toward Easter Joy I am put in mind of one of my favorite Easter Hymns, "Now the green blade riseth, from the buried grain, Wheat that in dark earth many days has lain; Love lives again, that with the dead has been: Love is come again like wheat that springeth green."
Yours in Christ,
The Rev. Eric Hungerford, Rector
Ruth Desiderio, Rector's Warden
---
The church is open from 9 a.m.-5 p.m. Monday-Friday for individual prayer and meditation.
The Parish Office is open with limited staff from 9 a.m.-5 p.m. Tuesday-Friday.  Other staff are working from home.
Baptisms, weddings, or funerals may be arranged through the clergy, and are subject to COVID protocols.
Most church activities are online:

Vestry and many Committee meetings
Sunday Adult Education Forum
Community meetings related to the Rector Search
Godly Play, Confirmation class, Middle and High School Youth, Parents' Exchange
Wednesday Book and Action Club
Wednesday Bible Study

Some specific community events are being arranged with COVID modifications.
---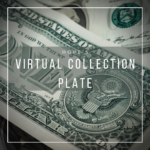 During this time when many of us are not attending church services in person, we are offering a Virtual Collection Plate. Please contribute what you would normally have given each Sunday and help Saint Paul's continue its important work!