News
Renovation Update: 7/8/2021
2021-07-08
The property committee was flush with excitement this week as the sewer project got underway.  Test pits have been dug in the street and saw cutting will start in the next few days. Please be aware of road closures during this time.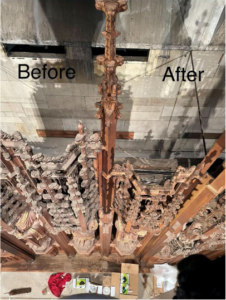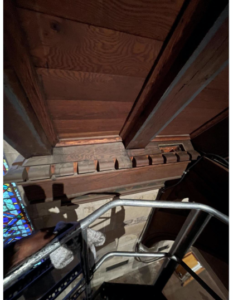 Wood cleaning and re-lamping started in the sanctuary last week.  Starting at the chancel they have cleaned the reredos and the choir stalls.  The carving is quite delicate, so it is a slow process to dust and clean all these nooks and crannies with Murphy's Oil Soap.  These photos show the contrast between areas that have and have not been cleaned.  A note that while you see a big contrast in these photos, once it is completely finished it will still have the character of time and patina that makes it so beautiful.  It will not look brand new.  It will look like the best version of itself.
Next week, masonry cleaning will start.  By Labor Day we should have a clean and well-lit sanctuary for the new church year.
NB: During this time the sanctuary will be closed to all staff and visitors until 4:00 pm each weekday.  The sanctuary will be available for weekend services and for funerals and weddings as needed.
As always, thank you for the contributions and pledges that are making this work possible.