Choir Trip to England 2022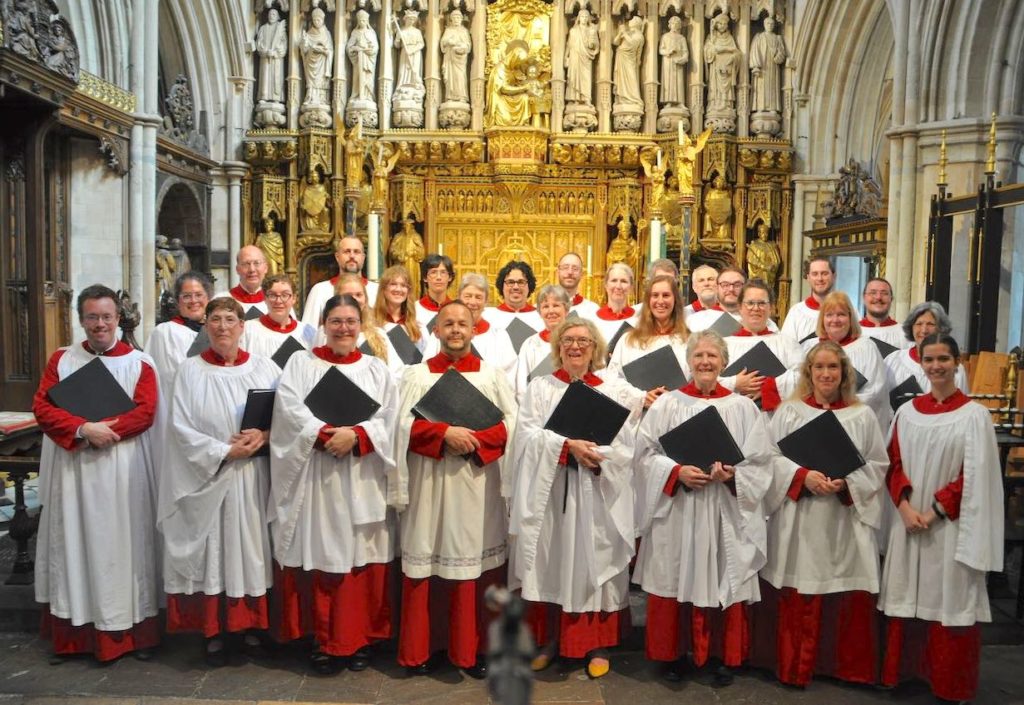 St. Paul's Choir at Southwark Cathedral, London
An excited group of 27 singers, two music staff members, and several friends and family members from St. Paul's gathered in the ancient city of Exeter on July 22nd 2022, to begin a ten-day choral visit to three famous English cathedrals.  Planning and fundraising for the trip had been ongoing for more than a year prior to departure, as well as intensive musical preparation for the two services of Holy Eucharist and six Choral Evensongs that were on our schedule.
We were fortunate to have excellent guided tours of each of the three cathedrals in which we sang.  Exeter Cathedral has been standing mostly in its present form since the early 15th century, though its origins as the seat of the Bishop of Exeter go back 400 years earlier.  Not one of Britain's largest cathedrals, it is nevertheless a dramatic building with a fine stone vaulted ceiling and many unique architectural features, such as the carved misericords upon which weary clerics and choristers were able to perch without appearing to be seated.  St. Albans Cathedral is a fascinating composite of architectural styles and eras, having been periodically damaged, fallen into disrepair, and renovated since the original Abbey that incorporated materials from Roman times.  We were impressed by the martyrdom story of St. Alban, and by medieval wall paintings on the nave pillars, enhanced by modern light projection that recreated the images as they must have originally appeared.  Southwark Cathedral gave us perhaps the best acoustic and most thrilling place to sing. Its setting in the crowded and bustling Bankside neighborhood of London was very different from the other two cathedrals, and provided an interesting glimpse into the ministry and mission of a historically urban seat of Anglican worship.
The experience of participating in services conducted in sacred places where people have been worshipping for centuries, uttering the same prayers and singing many of the same tunes, was profound. Consideration of the resilience of those generations who faced so much destruction and death in historical conflicts over the centuries, and yet managed to keep their Christian faith alive and vital, gave some perspective to the pessimistic world view so prevalent in our modern era.  We were warmly welcomed everywhere we sang, and a particular highlight for the choir was the opportunity to sing Choral Evensong to honor the retirement of the Bishop of Plymouth, the Rt. Rev. Nick McKinnel.
Rehearsing and singing at our very highest level of performance for eight services over eight days was hard work.  Fortunately the trip schedule allowed for some relaxation and sightseeing opportunities.  On different days we visited the ancient site of Stonehenge, the pretty seaside town of Lyme Regis, and took a ride on a steam train through the Devon countryside. The stately home of Wilton House near Salisbury was a popular outing, as was a performance of The Tempest at Shakespeare's Globe Theater in London.
This account of the choir trip would not be complete without a mention of the impact that the Covid pandemic had on our journey.  In the early stages of planning it, there was real uncertainty that official restrictions on travel and gathering would be sufficiently relaxed to allow us to even make the trip.  Faithfully, we hoped for the best and carried on.  As we prepared to leave Philadelphia in July, a local surge in Covid cases did not leave our group untouched, and five people were unfortunately not able to travel with us.  Eleven more singers and Organ Scholar Emily Amos succumbed to Covid early in our stay in Exeter, leaving our performance forces somewhat depleted for those services.  Thanks to swift action on the part of our Director, Andrew Kotylo, local singers and organist substitutes were brought in, and the services took place as planned at a very respectable level of musical excellence.  By the time we were at St. Albans the group was back to full complement, to our great joy.   A trip such as this one invariably generates closeness among its participants, and meeting the challenge we faced as a group to push through the Covid setback certainly added to the bonding experience and our sense of accomplishment.
We are deeply grateful to all those who helped make this trip possible, through financial contributions, assistance with fundraising and organization, and with encouragement, support, and prayer.
---
Reflections on the trip by Kristen Poole
Service Schedule
*Click highlighted services for video links
Exeter Cathedral
Sunday July 24th: *10:00am Choral Eucharist, 3:00pm Choral Evensong
Monday July 25th: 5:30pm Solemn Evensong
Tuesday July 26th: 5:30pm Choral Evensong
St. Alban's Cathedral
Friday July 29th: 5:00pm Choral Evensong
Southwark Cathedral
Saturday July 30th: 4:00pm Choral Evensong
Sunday July 31st: *11:00am Choral Eucharist, 3:30pm Choral Evensong