Choir Trip to England 2022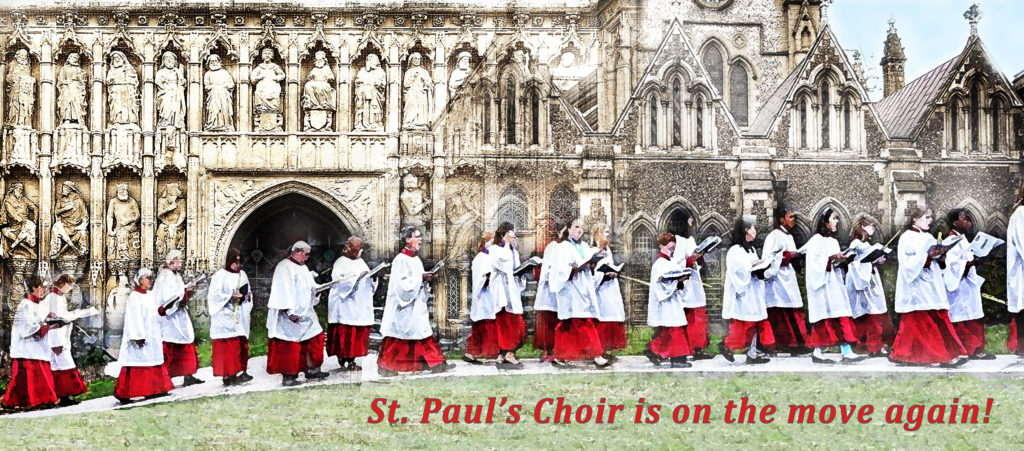 The Choir of St. Paul's Episcopal Church in Chestnut Hill is preparing to travel to England for ten days in the summer of 2022, to be the choir-in-residence first at Exeter Cathedral in Devon, and then at Southwark Cathedral in London.
About 35 singers, together with St. Paul's Director of Music and its Organ Scholar, will be singing and playing daily services of Choral Evensong and Holy Eucharist services on Sundays.  Many British cathedrals invite visiting choirs to take a Choral Residency during weeks when their own musicians are on vacation.  Our choir made this musical pilgrimage for the first time in 2017, spending a full week at St. Paul's Cathedral in London.  It was an unforgettable experience of musical and spiritual growth for all who participated, and we are looking forward to repeating the opportunity in two different venues.  Exeter and Southwark are ancient cathedrals with a strong tradition of music, both choral and organ.
Musical preparation for the trip is already under way.  The repertoire that the choir will take to England is scheduled into the programming for Evensong and Eucharist services throughout the year at St. Paul's.
Silent Auction and Musical Evening
Thursday November 11th  |  6:00-9:00pm
Philadelphia Cricket Club
The choir is raising funds to finance the participation of the professional singers, the Music Director and the Organ Scholar. The major focus of the fundraising effort will be a Silent Auction and Musical Evening that will be held at the Philadelphia Cricket Club on November 11, 2021. Your attendance at the Auction – and your participation in bidding remotely or in person – will be most welcome, as will a financial donation or item to be auctioned.
For ticket purchase and the Auction Catalog head over to the Silent Auction website