Pledge for 2024
"You shall love your neighbor as yourself."

 Mark 12:31
This year at St. Paul's, we've launched an exciting new ministry – a Welcoming Task Force to help focus our attention on building our church community. Jesus has taught us that we can sustain the church simply by following his universal command to love our neighbors – to open our hearts and extend a generous and hospitable hand of welcome.
Pledge Brochure 2024
Click images to enlarge.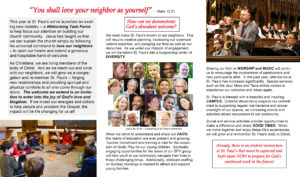 Brochure inside
Make Your Pledge
In the spirit of God's generosity, love and welcome, this pledge is given to help meet the proposed 10% budget increase to build St. Paul's community and ministries in 2024.
If you wish to increase a pledge that you previously submitted, please make an additional pledge in the amount of the increase.