Jesus is coming – look busy!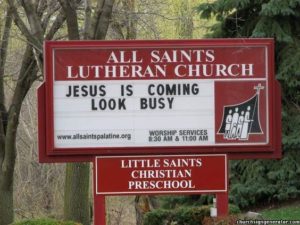 The satirical statement above has been printed on T Shirts and is displayed on church notice boards as we all find ourselves already entering the Advent season. Where did 2020 go? Questions and judgement are certainly a part of the Advent theme and the coming of Jesus (in Bethlehem) and the second coming of Christ are all interwoven into the Advent themes we will once again, hear. What will we hear differently this year, I wonder?
We are a remarkably busy congregation, that is for sure. Just read some of the offering and opportunities for community service, participation in a great outdoor ecumenical celebration of Christmas on December 12th (pick up pageant costumes on Sunday between 9-11) and awesome Christian education. Philip Bennet's talk on Hope last Sunday during the Adult Education hour was a masterful insight into the Christian celebration of the incarnation of God in the life of Jesus. We only had a handful of people watching, but everything is recorded now, so check it out. Feed the mind. Feed the soul. Then there are Winter Coat Drives, Christmas presents for children in need (gifts are due on 13th at the Rectory or online) and our support of the Interfaith Hospitality Network (where St Paul's has already committed $5K and other churches and walkers on December 12th) all testify to our busy-ness as Christian servants. We want to help others and many people look to St. Paul's for support during this time of the Covid 19 pandemic. The Music Department and choirs have been rehearsing and plan a wonderfully inspiring series of services for the holiday season, particularly the Nine Lessons and Carols to be shown on December 20th. Meanwhile, Flower Guild and  staff are working to prepare the church and grounds for a different celebration of the season and I hope you will make use of the church during this time to come by and pray and meditate, walk the labyrinth and just find some rest from the busy-ness of it all!
Since our heating pump for the church died several weeks ago, we have been scrambling to find an alternative source of heat to keep the church from freezing before January 10th when the pump should arrive from Germany. Staff attempted to install small heaters in certain parts of the church, but they only worked for a time, -the window electrical outlets kept overloading and we realized our wiring id very antiquated. A circuit fire several months ago, also put the Vestry on alert that our buildings need serious upgrading and repair. So much of our time this past month has been devoted to this matter. The good news is that we have decided to rent two large propane heaters that you will see on the Chestnut Hill Ave side of church with 1,000 gallon tank (looking like a small submarine) and it will be installed next week. This will keep the building warm enough to prevent freezing and we can work on the heating system in January. The parish will be hearing more about the deferred maintenance that is now staring us in the face. Busy indeed are the people of God around here these days. Covid adds another layer of complexity for everyone, not least the staff as we plan new ways of worshipping together.
After church services and ZOOMING last Sunday, I was exhausted and decided to make some time and create an Advent Wreath for our home. It took a little prior shopping at Trader Joe's, but assembling it on my dining table, took all of five minutes. I now have something now to focus upon in my busy-ness. Watch the video and maybe you too need something to slow you down and connect each one of us at this wonderful period of expectation and hope. Something the kids can help make, something to focus our minds as we light a candle week by week and join with St. Paul's in exile and the church universal….we are here and we wait for the one "who brings us the true light that enlightens everyone". Jesus is coming and we don't have to pretend to be busy or simply look busy, because he knows all that for sure! Slow down, light a candle and appreciate the beauty of life and creation, the mystery we are to each other and the mystery of the church -far from perfect, but at a time like this, we need each other more than ever. Light a candle with us each week in the circle of love and greens.
Blessings on you and all for whom you are holding in prayer and light.
Albert Ogle